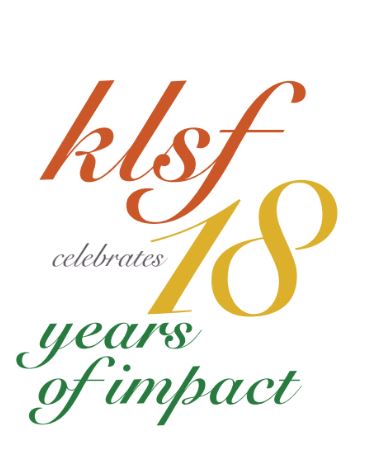 December 2017
Greetings to our Kristin Linnea Skvarla Foundation family;
In this season of giving and thanksgiving, the KLSF Board of Directors, along with Madelynn, David, Sonja, and Kai are filled with gratitude, as we have been since the early days of 2000 when we set out together on a journey we never expected to take. Our extended families and each of you have taken this journey with us. We're grateful for your embrace of the desire of Kristin's friends and her family to share her passion for meeting others, with far different histories and circumstances than our own, and to connect with their gifts and visions for the future.  
On this journey we've met learners of all ages and teachers of all backgrounds and we've discovered rich tapestries of unfamiliar cultures within the US, Africa and the Marshall Islands.  We've worked to learn how we can best share our resources to enable sustainable change in communities and with individuals. We've traveled a long way on this road together!
Now the road will fork in many directions as KSLF wraps up its formal identity and closes its books at the end of this year. Each of us will carry forward the intentional investment we've made in enabling the potential of individuals we have met on this road, even as we continue to test the limits of our own zones of comfort in an ever-changing landscape of ideas and challenges. In Kristin's spirit we hope that, with us, you will aspire to continue to engage others to notice and respond, resisting the option to walk on by.
Since 2000, as an expression of your generosity, KLSF has granted over half a million dollars. Small grants at the outset represented tuition for two learners per year at St. Boniface College in Sambyu, Namibia, and grew to support eight learners yearly, eventually granting tuition, room and board which represented 90+ years of scholarships to the school where Kristin taught. Other grants provided assistance with post-secondary scholarships for college level study and occupational education in car mechanics and the tourism business for graduates of St. Boniface. KLSF supported WorldTeach volunteers to create community-based projects at their various sites including upgrading a school library, creating a safe playground, mentoring students to lead a community water conservation project, and starting a healthy living club for teens. We supported both year-round and summer personal growth opportunities for students on Chicago's west side, through Camp of Dreams and Providence St. Mel's Summer Opportunity of a Lifetime (SOAL). In addition we contributed to entrepreneurship education and follow-up coaching for men transitioning from incarceration (A Social Ignition).
KLSF has been honored to be in a position to make three grants of $100K each in the past three years. We supported the expansion of programs at Akilah Institute in Rwanda (www.akilahinstitute.org), where women master concepts and skills aligned with the region's fastest growing industries. We presented a legacy grant to WorldTeach (www.worldteach.org) to annually defray costs of volunteer teachers going to Namibia, the most costly of its programs, but one of the most highly lauded. In 2018, through a partnership with Barefoot College (www.barefootcollege.org/solution.solar), headquartered in India for more than 40 years, a solar power installation will become operational in the far northwest Kuene Conservancy of Namibia. Fully-trained women solar engineers, sometimes referred to as solar mammas, will build and maintain the equipment needed to bring safe and dependable solar energy to their community for light, heat and cooking.
Among KLSF board members are the most inspiring young professionals you will ever meet! They are Kristin's siblings and her loyal, loving friends from places in her life that she most strongly embraced… Glenbrook South High School, Vanderbilt University, Providence St. Mel and WorldTeach. Each has contributed their 'heart' and expertise to growing sunflowers from Chicago, Africa, the Marshall Islands, Oregon and back again. Dana Bonkowski, David Kirby, Lauren Ratner, Amy Sagues and Kai Skvarla are current board members and along with Lisa Demas, Meika Hilsman, Sanders Lowery, Michael MacHarg, and Sonja Skvarla, who previously served, have acted as diligent stewards of your generous gifts and thoughtfully guided its work in pursuit of our mission. Each in their own wonderful way, they've made a bumpy journey for Madelynn and Dave, and for many of you, one to treasure and to move forward with in years to come.
We encourage each of you to continue to seek meaning in your own life by extending a hand to others and advocating to "support individuals—especially young people—who strive to discover, explore and positively change our world, primarily in areas of education and community development." We believe there couldn't be a more meaningful way to remember Kristin! It would fill her heart… as you have ours!
Madelynn and Dave Skvarla